Winter season often reminds us of coats, heavy sweaters, and lots of layers. It hardly lets us think of ethnic wear in life. This winter season, you will feel blessed to have a classy range of winter ethnic styles, winter kurtas and winter wear kurta sets available at online sources. When wearing winter wear we often think of multiple layers but that does not mean that we give up on our style quotient. It is most important for women to be in style and you can choose from a wide range of ethnic winter wear that is available online.
A Maroon Solid Shrug For Winning Winter
Shurg is the perfect attire for women to dress their favorite ethnic wear this winter season. What can be more interesting than a maroon solid shrug for winter lovers? Maroon often makes you look a better version of yourself and it also allows you to be comfortable and warm during the winter season. With such a shrug, you can wear a cotton-made kurta set and the shrug will keep you warm from outside. Also, you can wear a winter ethnic set made of print velvet fabric if you want and top it with a shrug. You can buy a maroon shrug online with open full sleeves, a straight hem, and a front button.
A Light Blue Solid Kurta Trouser Dupatta Set For Stylish Winter Season
Women in winter wear is a vibe. Soft, smooth, and comfortable clothes worn in layers make them look charming. We leave no stones unturned for your winter outfit needs and this is the reason we bring you the classy kurta trouser dupatta for this pretty winter. This ethnic wear is not just warm and wintery but also enhances your beauty this winter season. It has white-colored borders over its three-quarter sleeves and a cute hemline with a mandarin neckline. It is paired with classy pair of trousers that gives vibes of comfort and ease. The best part is that it comes with a dupatta which is created from poly silk printed. Styling is super easy with this ethnic wear set. You can go for wedges or heels with this ethnic set for footwear.
A Fuschia Solid Kurta Sharara With A Dupatta For A Great Styling
Winter season brings forward a taste of non-fashion in women's wardrobes. You may either end up collecting lots of sweaters or jackets or you don't worry about styling yourself up during this winter season. But you will love to thank us for bringing this kurta sharara with a dupatta set. There is one pocket on the side of the kurta to keep your essentials and remove the need for a purse. The sharara has a golden border with a golden outline on the dupatta. The midriff of the kurta is also decorated with cute handwork.
A Navy Blue Pashmina Ornamental Print Kurta For A Gorgeous Look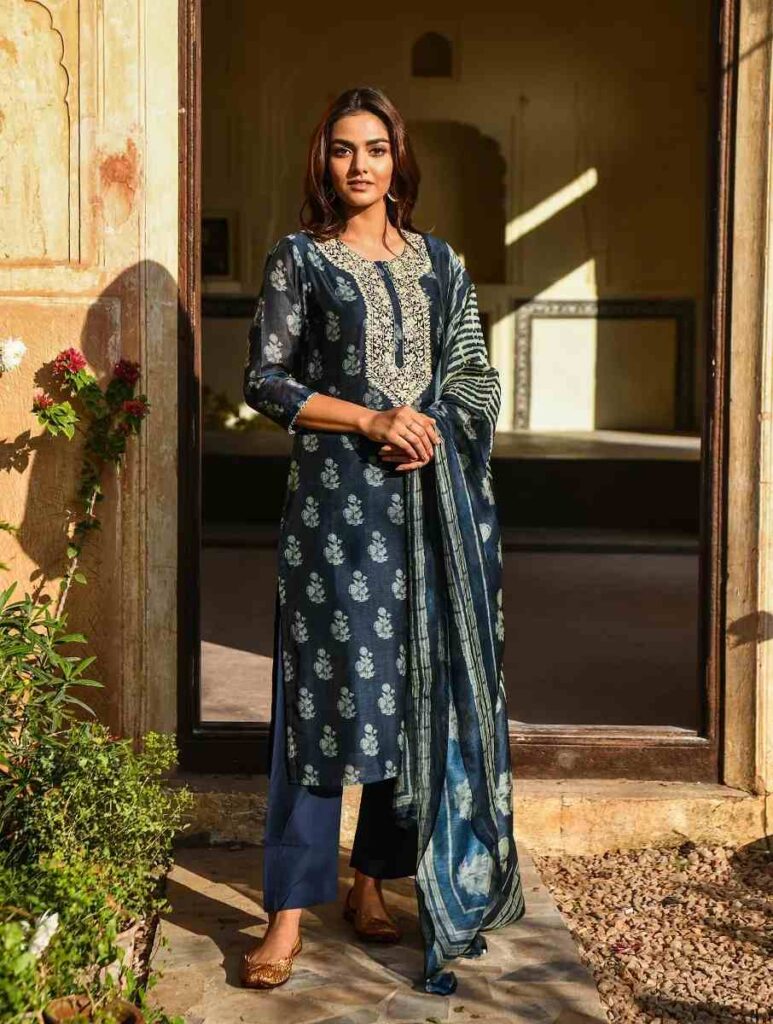 If you are someone who wants to make a style statement regardless of the winter season, this navy blue pashmina ornamental printed kurta can be the perfect winter choice for you. Become a winter darling in this outfit and thank us later. To make it a winter-worthy style, you can buy a black shrug to go on top of it. The navya blue kurta is made of pashmina fabric and depicts a cute ornamental print on the backline and front line. It increases the chance of styling the way you want.
Decision Time
There can be various outfits that you love during winter but it will be great if you are wearing both warmer and stylish clothes. There are huge varieties of winter wear online and you can make your own choice and dress up like a queen. Also, there are huge varieties of modern fabrics online that you can stitch from a tailor and brings up something unique for the event. So, use your creativity and be a center of attraction this year.